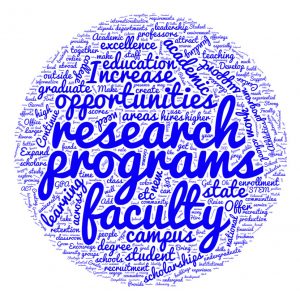 A degree from the University of Mississippi has value. Our graduates are impactful within our state and across the world. Our students, faculty, and staff are successful and competitive. Thanks to nationally ranked and prestigious programs like Accountancy, Pharmacy, Forensic Chemistry, Physics, Modern Languages and many more, the University of Mississippi is in demand. We were recently designated a Carnegie R1 Highest Research Activity institution, which puts us in the top 2.5% of institutions in the country.  And we've seen record enrollment growth for the last 20 years. We continue to strive to enhance academic excellence at the University Mississippi.
During the 2016 Town Hall, we received 161 ideas about academic excellence across the following 10 broad categories.  Click on each category to read all the individual ideas submitted by UM community Town Hall participants.
Academic Programs / Courses
Campus Climate / Environment
Funding / Scholarships
Graduate Education
Infrastructure / Facilities
International Leadership / Opportunities
Learning Environment / Opportunities
Student Recruitment & Retention
Research and Faculty
Miscellaneous
Click here to view headlines collected at the 2017 Town Hall.